Responsive Websites
Responsive Design prepares websites for the future of modern website design by making them beautiful across multiple devices. We plan, design, and develop stunning responsive websites that will increase conversion rates and overall traffic. We make sure that our responsive websites are beautiful across all devices. Our responsive web design makes sure that your business is prepared for the future mobile web.
What is Responsive Website Design? Responsive website is a single website that adapts to the device of each unique visitor, whether desktop, smartphone, or tablet. A responsive website dynamically re-sizes its content and imagery for a variety of different screen sizes in order to ensure the website is effective and easy to use on any device.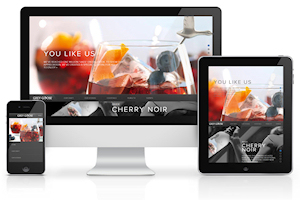 Why should I use Responsive Website Design?
Internet traffic originating from mobile devices is rising exponentially each day. As more and more people get used to browsing the web through their smartphones and tablets, it is foolhardy for any website owner to ignore responsive web design. The "One Site Fits All Devices" approach soon will be the norm. A responsive design cuts the owners cost, by means of taking away the effort to maintain different versions of a website i.e. a "desktop-version", a "mobile-version". In the long term, investing in responsive website design is the smartest decision.
Rapidly growing mobile usage!
Mobile web usage is growing at an extremely rapid rate that presents enormous opportunity. A website that is not optimized for mobile usage and performance stands the potential to leave an enormous amount of opportunity and business on the table. Our professional responsive designs deliver outstanding results from both desktop and mobile users.
Who Is Doing It? Everyone. These days web design and responsive web design are the same thing. Responsive Design is not the same as mobile design. Mobile design entails creating an entirely new website or web app with content specifically created for the mobile experience. Responsive Design may have started as a trend, but it has quickly become an evolutionary step in web development and design that has greatly affected design and technology.