Companion Mobile Websites
Is your website mobile friendly? If not, what are you waiting for? Act now and stay a step ahead of your competition! If you are one of the firsts ones in your area to grab this mobile marketing bull by the horns, it could have a major impact on your business. Not long ago Google announced that as of April 21, 2015 "we will be expanding our use of mobile-friendliness as a ranking signal." That's a major change.
But what does that mean exactly? It means that preferential ranking treatment is now given to sites that are "optimized" for mobile. It also means that having a mobile-friendly website is no longer a nice option to give your customer - it's absolutely essential.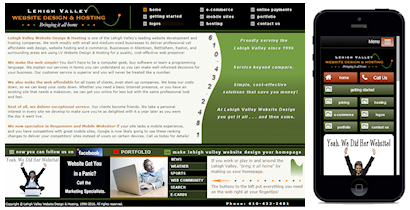 Take the Google Test Now!
The good news is it's pretty easy to see if your site makes the grade by taking this test to see how your current site looks on a mobile device.
As Google loves to remind the world, they look at search from the user perspective. When it comes to mobile, if the content on your site serves its purpose and performs well with users hitting it on different devices, then this change shouldn't have an impact on your rankings. But if your site lacks a good mobile experience, and you have competitors with great responsive sites, Google is likely going to use these ranking changes to deliver your competitors' sites instead of yours on certain devices.
Even with this change, the real reason to make sure your site has a great mobile experience shouldn't be to satisfy Google - it should be for the users. But if you haven't already addressed it, expect a change in your rankings on mobile searches on Google. You've been warned! REMEMBER: Google wants what users want. So make sure you're giving it to them.
Still love your website but it isn't mobile friendly?
Not a problem! Lehigh Valley Website Design is your mobile website specialist! We can design a companion mobile site to go with your existing website at a price you can afford. Be sure to ask about our "Site for Life" program to own your site forever. Call us today for more details!
Get More Phone Calls - Our Click-to-Call feature enables your customers to contact you with just the push of a button.
Step-by-Step Directions Powered by Google Maps - Ensure your customers are always able to find their way to your brick-and-mortar location. Just one click will lead them directly to your doorstep.